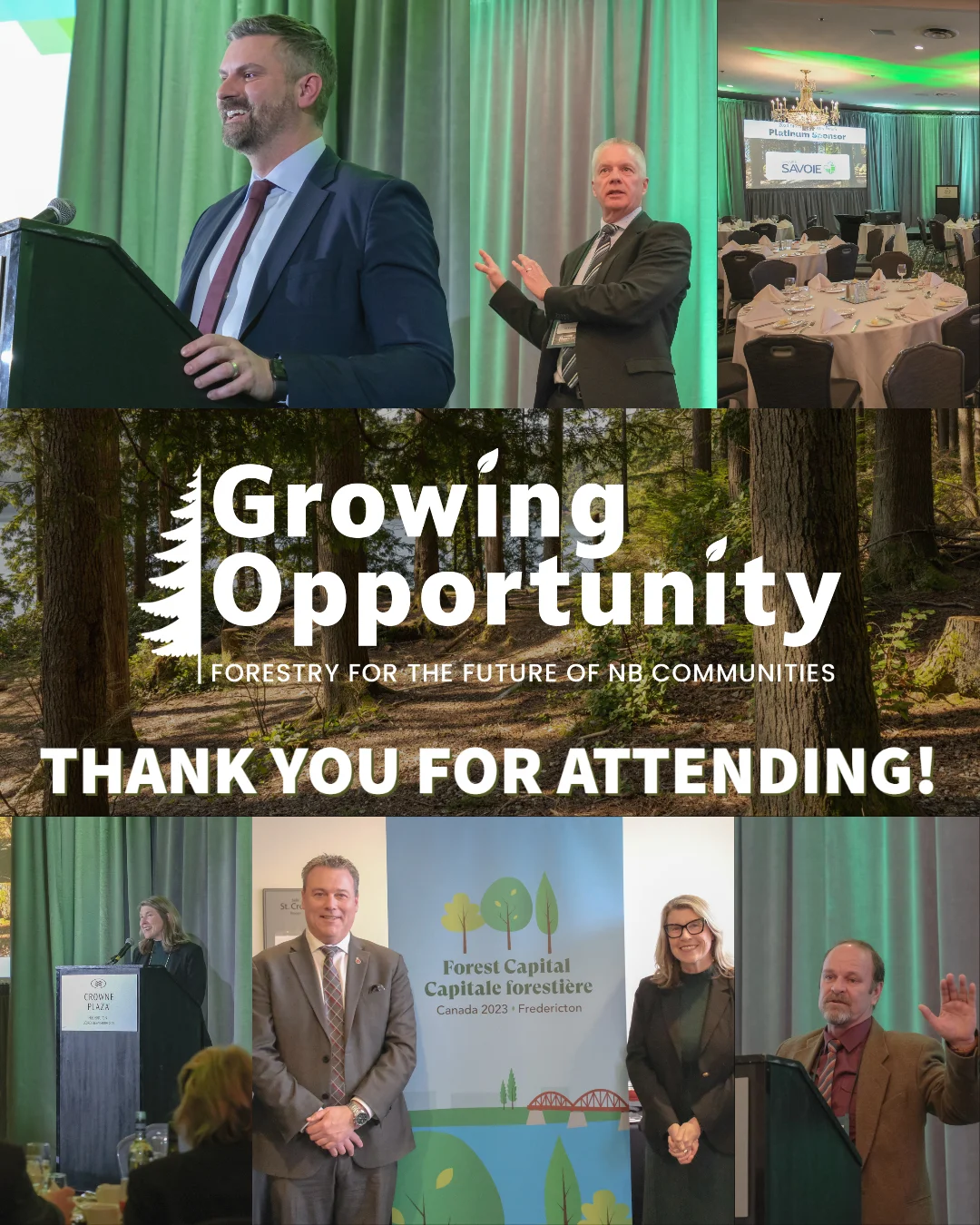 Thank you for joining us!
We would like to express our heartfelt thanks to each and every attendee of the 2023 Forest NB Industry Forum this week at the Crowne Plaza Fredericton - Lord Beaverbrook. Your participation and engagement made this event a huge success, and we hope that you found it informative and valuable.
We would also like to extend a special thank you to our speakers, who shared their expertise and insights with us throughout the event. Your presentations were enlightening, thought-provoking, and inspiring.
In addition, we would like to thank the dignitaries who graced us with their presence and support. Your attendance and participation helped to elevate the forum and underscore the importance of the forest industry in our region.
Finally, we would like to express our deepest appreciation to our sponsors, whose generous support made this event possible. We are extremely grateful for your commitment to our industry and for your ongoing support of Forest NB.
Once again, thank you all for your participation in the 2023 Forest NB Annual Industry Forum. We look forward to seeing you again next year and continuing to work together to promote and grow our vital industry
Through the 66 years Forest NB (New Brunswick Forest Products Association) has acted the voice of forestry in the province, we've observed no shortage of changes. As our sector continues to evolve to meet new challenges, we are continuously inspired by the adaptability of our industry and the diverse workforce who drive innovation in the sector. Join us for our 2023 Industry Forum as we discuss how our forests are improving our opportunities for a low-carbon economy and increased climate resiliency, and what that means for the future of our communities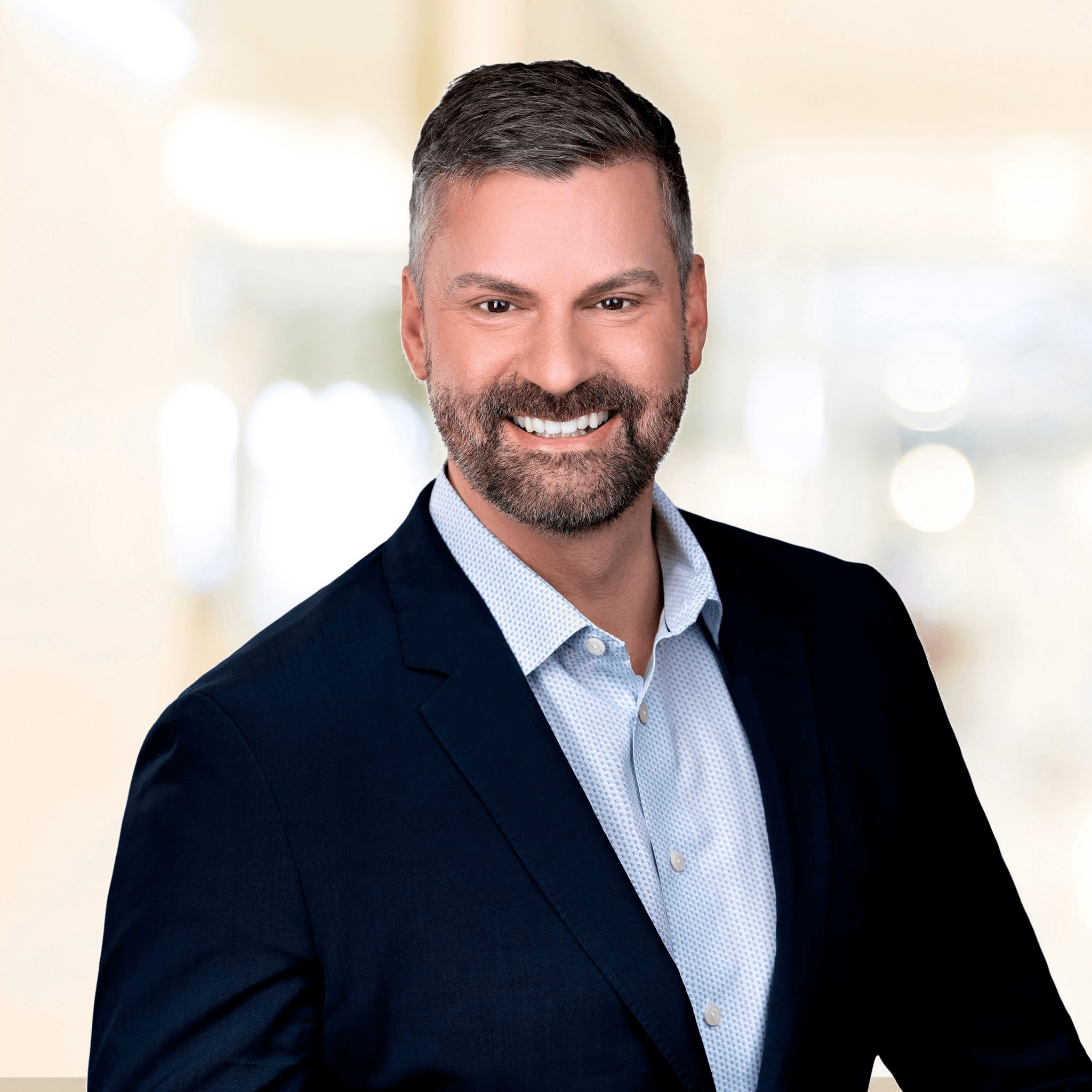 President and CEO, Forest Product Association of Canada
Derek Nighbor was born and raised in Pembroke – in the heart of the Ottawa Valley – and has been President and CEO at Forest Products Association of Canada (FPAC) since March 2016. He is proud to represent Canada's forest products sector and its workers, families, and communities nationally and internationally.
In addition to his role at FPAC, Derek serves as the industry representative and advisor to the United Nations Forum on Forests (UNFF) and is the Past President of the International Council of Forest & Paper Associations (ICFPA) – an organization of forest sector leaders from 28 countries around the world. Derek is also a member of the Board of Directors of FPInnovations, Canada's leading forest sector research institute.
Copies of presentations can be acquired by emailing communicaitons@forestnb.com
Our event hosts diverse speakers that offer local, national, and international perspectives on innovation and opportunities in the Forest Sector.
Brian McClay
Brian McClay is president of Brian McClay & Associates (BMA), a privately-held pulp and paper competitive intelligence provider in Montreal, Canada. Its primary function is to help subscribers track and forecast global
pulp market conditions, trends and prices.
Crystal Gauvin
Crystal is the primary author of FEA's Lumber Market Status & Trends newsletter and is responsible for FEA's Sawmill Profiles. She has worked in the industry since 2008, previously specializing in forecasting housing, PB/MDF, and engineered lumber markets across North America.
Gaetan Pelletier
Gaetan is the founding Executive director of the Northern Hardwoods Research Institute and previously held various positions such as silviculture forester, district forester, district superintendent and manager of R&D and continuous improvement. He has developed leading edge practices and management strategies from planted stands to hardwood forests.
Francois van Deventer
Francois is the Executive director of AtlanTIC and is a Tree Improvement Professional from South Africa. He has 25 years expertise in Tree Improvement, with specific reference to tree breeding, plant genetics (quantitative), silviculture, gene conservation and site by species matching with experience related to Acacia, Eucalyptus and Pine species. While fulfilling various roles, he has also gained experience and skills in people management and team leading.
Peter Robichaud
Peter is a graduate of UNB's Forest Management Program and is a Registered ProfessionalForester in Nova Scotia. He started his career in the early 80's working with a forestry consultant and in 1983 shifted to the Canadian Forest Service where he worked for the next 13 years on various programs offered under the Cooperation Agreements.  In 1996, he joined the Canadian Woodlands Forum under the former Canadian Pulp and Paper Association working with members of the fiber supply chain. Since 2001, Peter has served as Executive Director of the CWF, providing membership services, knowledge exchange & contractor training.
Josh Sherrill
Josh Sherrill is the Leader of Forest Productivity at J.D. Irving Woodlands.  He has responsibility for improving forest growth and health, which involves multiple disciplines such as silviculture, genetics, forest modeling, technology, and remote sensing.  His experience in forest productivity over the last 18 years encompasses a dozen conifer tree species managed in two Canadian Provinces, 12 US States, and New Zealand.  He holds a Bachelor and Master of Science in Forest Management from North Carolina State University and an MBA from Colorado State University.
Steve Hansen
Steven Hansen, CD, JD, is the CEO and managing director of Forest Protection Limited, one of Canada's oldest aviation corporations. He leads a multi-disciplinary team of 100+ personnel across Atlantic Canada, supporting forest health and public safety.
During his time with the Canadian Armed Forces, he completed degrees in Military History, Engineering, and a Juris Doctor of Law. He served at the Canadian Forces School of Military Engineering in Combat Training Troop, preparing future generations of combat engineers and officers.
With a proven track record of creating sustainable operating structures, business planning and long-term strategic vision, Steven currently sits in executive roles on the boards of Maritime College of Forest Technology, SERG-I and the Canadian Aerial Applicators Association.
As the chair of the Healthy Forest Partnership, he champions the flagship research project, the Early Interventions Strategy in the Prevention of Spruce Budworm Outbreaks.
Jim Ketterling
Jim works for J.D. Irving, Limited Woodlands Division as Director, Human Performance.
Jim joined JDI after graduating from UNB Forestry in 1986.  His focus was initially on productivity improvement, but as workforce challenges mounted, effort shifted to workforce recruiting and development.
In 2018 and 2019, Jim helped develop JDI's international recruitment program for truck drivers and forestry equipment operators.  The program has since expanded to fill a significant part of JDI's needs in the Woodlands and Sawmill Divisions.
On the domestic front, in October 2022, after three years of teamwork with Forest NB and Apprenticeship and Occupational Certification, Forestry Equipment Operator became a designated occupation in the Province of New Brunswick.
Jim continues to work with industry and Government partners on a strategy for attracting, recruiting, and developing the Forestry Equipment Operator workforce of the future.
Within JDI, Jim leads the High Performance Workforce initiative focused on training and development of Woodlands Division operations supervisors.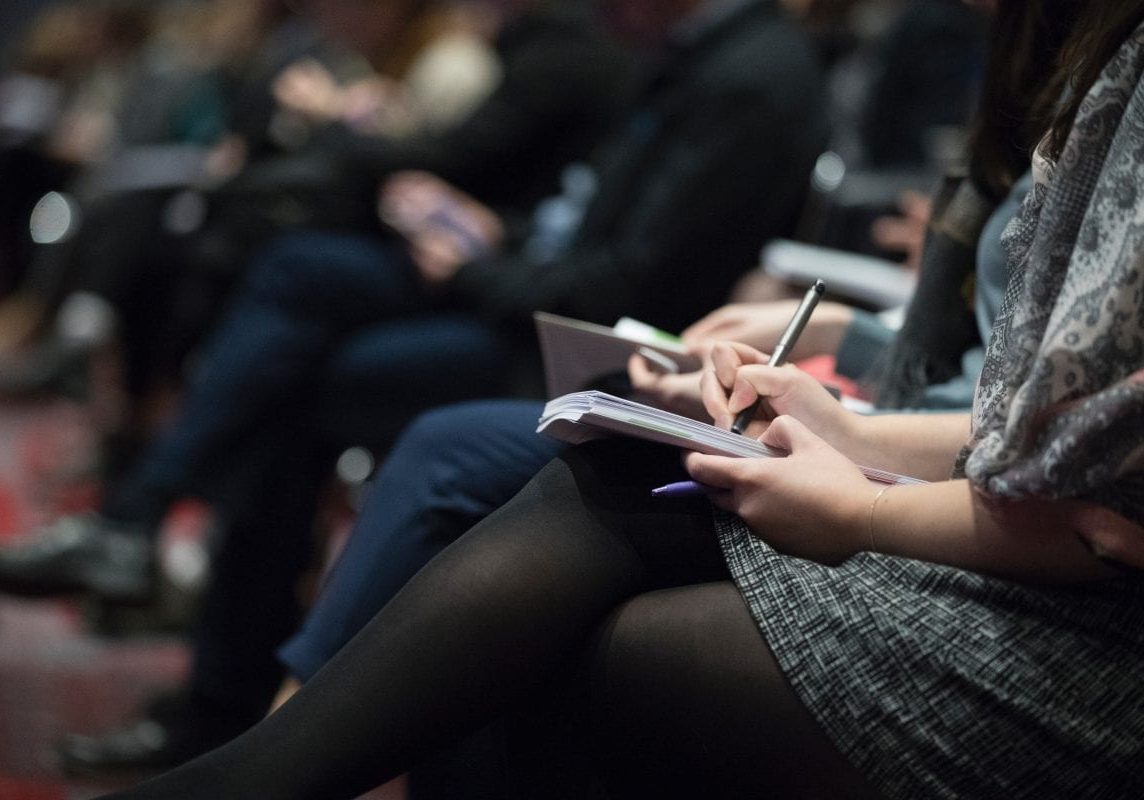 Wednesday, March 15, 2023
4:00p-5:00p -CIF-IFC Forest Capital of Canada launch event (Mezzanine)
4:30p-6:00p - Registration -  (Ballroom, Ground Floor)
5:30p-6:30p - Reception & Networking -  (Ballroom, Ground Floor)
6:30p-8:00p - Welcome on behalf of the Government of NB - The Honourable Mike Holland, Minister of Natural Resources and Energy Development
Dinner (Ballroom, Ground Floor)
7:00p-8:30p - Keynote address: Derek Nighbor, Forest Products Association of Canada (FPAC) – 'Forestry for the Environment and the Economy: What's Working (and What's Not) in Ottawa' - (Ballroom, Ground Floor)
8:30p-10:30p - Hospitality Suite -  (Junior Ballroom, Mezzanine Floor)
8:00a-9:00a - Registration (Ballroom, Ground Floor)
8:00a-9:00a -Networking Breakfast (Ballroom, Ground Floor)

Executive Director's Opening RemarksKim Allen, Executive Director, Forest NB

9:00a-9:30a - Networking & Tradeshow - (Junior Ballroom, Mezzanine Floor)
9:30a-9:40a - President's welcome - Conway Elkins, President/Chair Forest NB - (Ballroom, Ground Floor) 
9:40a-10:40a - Speaker Series 1 - Economic Updates & Forecasts - (Ballroom, Ground Floor)

Crystal Gauvin, Forest Economic Advisors (FEA) - North American Wood Products Markets - With A US Recession Likely, How Will Lumber Markets Fare?
Brian McClay, Brian McClay and Associates Inc. - Emerging Pulp Market Risks & Opportunities in a Changing Global Climate

10:40a-11:00a - Speaker Series 2 - Research & Development - (Ballroom, Ground Floor)

Gaetan Pelletier, Northern Hardwoods Research Institute (NHRI) - 'Strategic and operational options to grow more and better hardwoods in New Brunswick'

11:00a-11:30a - Coffee break, Networking, & Tradeshow - (Junior Ballroom, Mezzanine Floor)
11:30a-12:00p - Speaker Series 2 continued - Research & Development - (Ballroom, Ground Floor)

Francois van Deventer, Executive Director, AtlanTIC  & Josh Sherrill, JDI - 'A Solution for Future Forestry'

12:00p-1:00p - Industry Forum Lunch - (Ballroom, Ground Floor)

Steve Hansen, Forest Protection Limited (FPL) – 'Protecting the Forests that Sustains Us'

1:00p-1:30p - Networking, & Tradeshow - (Junior Ballroom, Mezzanine Floor)
1:30p-2:15p - Speaker Series 3 - Workforce Development - (Ballroom, Ground Floor)

Jim Ketterling, JD Irving Ltd. –Forestry Equipment Operator Trade Certification in New Brunswick:  The Foundation of a Skilled Labour Force Strategy
Peter Robichaud, Canadian Woodlands Forum (CWF) - Developing a Skilled Labour Force for New Brunswick's Sustainable Woodlands Operations

2:15p-2:30p - Closing Remarks & Door Prizes Draw - (Ballroom, Ground Floor)
Our AGM and Industry Forum will be held at the Crowne Plaza - Lord Beaverbrook Hotel.
59 Queen Street,
Fredericton, New Brunswick,
E3B1C3
1-506-455-3371
Groupe Savoie's vision is to be a company recognized for adding the maximum value to available forest resources. Our mission has always been to manufacture products of exceptional quality—all while ensuring sustainable forest practices and contributing to the development and quality of life of our employees and communities.
Today, we are shifting the way customers think about buying hardwood products. Indeed, we're not "just" a supplier of hardwood products; we are an innovative manufacturer that provides end-to-end services for our customers to get the right type of product, the right level of quality, right when they need it. From our investments in cutting-edge technology and continuous improvement to product diversification to guaranteed delivery, Groupe Savoie is your one-stop-shop for all your hardwood product needs. This is what sets us truly apart and ahead of the pack.
AV Group NB is an important part of New Brunswick's strengthened economic infrastructure. We are proud to be supporting growth in the bio-economy in an environmentally and socially responsible manner. Established in 1997, we are integral in continually creating jobs, innovation, and prosperity due to our agile investments in new technologies and human resource skills. As an industry leader, AV Group NB is well poised for continued growth and success within New Brunswick's forest dependent communities and globally.
Forest Protection is the largest 702 aerial operator in eastern Canada. Since our incorporation in 1952, it has been our mandate to preserve and protect the forests that sustain our ecosystems, communities, and economies. We are a global leader in full-spectrum forest health management. Forest Protection helps forest practitioners preserve and promote forest health through aerial firefighting, collaborative research & development, training, and aerial work. Our unique set of specializations allows us to better champion forest stewardship.
We proudly tell the story of preserving and protecting forests, our longstanding legacy, and our role as leaders in forest health. We are voice for the forest industry, and we help citizens understand the complex business of aerial firefighting and forestry management practices. As industry leaders, we tell the story of innovation, professionalism, and safety within the forest management industry.
A.L.P.A. Equipment Ltd., your partner since 1976. A family-owned company, with three generations currently working.
A.L.P.A. has grown to five convenient locations serving Atlantic Canada and Eastern Quebec, located in Balmoral, Fredericton and Edmundston, New Brunswick, Truro, Nova Scotia and a new branch location in Moncton, New Brunswick.
Each location offers full service for your forestry and construction equipment, with field technicians offering service on-site.
A.L.P.A.'s extensive parts inventory has all the essential parts, with a 24/7 emergency parts ordering system and customer support representatives dedicated to keeping your equipment running.
Our training department helps get new operators up and running and provides experienced operators with the latest information on new technologies. A.L.P.A. equipment has also partnered with the NBCC "mechanized forest equipment operator program," offering the latest forestry equipment and simulators.
The engineering and fabrication department produces the Landrich track harvester and other custom fabrication projects. With the success of the LANDRICH, A.L.P.A has expanded its fabrication and assembly division to a new 63,000 square foot production facility.
Our team of equipment representatives and in-house finance department is ready to help find the right equipment for you. A.L.P.A. Equipment Ltd. is your leader in forestry and construction equipment and your authorized dealer for Landrich, Ponsse, JCB, Hyundai, Fuchs and Rotobec.
A.L.P.A. Equipment Ltd. Your partner in forestry & Construction equipment since 1976.
HUB International was born in 1998 with the merger of 11 privately held insurance brokerages. Today, HUB is one of the largest insurance brokers in the world and represents a broad, deep, one-of-a-kind aggregation of insurance entrepreneurs.
Twin Rivers Paper Company was officially launched on April 28, 2010, as a specialty papers business, with fully integrated operations comprised of a pulp and energy complex in Edmundston, New Brunswick, and a paper mill in Madawaska, Maine, as well as a lumber mill located in Plaster Rock, New Brunswick.